Our High-Flow-Filter is a high-performance candle filter designed and built to complete a classic back-washable candle filter. The significantly improved performance, where our High-Flow-Filter offers 4x higher volumes than the classic back-washable candle filter, helps our clients to reduce their costs and improve efficiency:
filtrate performance for classic Candle Filter: 2,500 l/m² per hour
filtrate performance for our High-Flow-Filter: 10,000 l/m² per hour
Apart from much better performance (achieved by the internal variation of the candle design), our High-Flow-Filter offers much higher filtration depth thanks to deployment of special proprietary filter cloths.
Main Advantages
Long service life
High filtrate performance
Surface filtration
Flushable
Full automation
Option of mobile construction
Application examples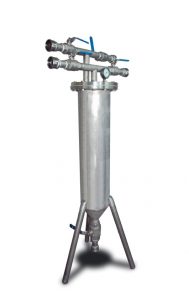 Because of the changed operation method of a candle filter and moving the remaining suspension containing few solids, we have eliminated the wasteful air consumption and cost intensive remaining emptying of a candle filter
The high-flow filter can also be used as a polishing filter behind a vacuum belt, a drum filter or a centrifuge.
The High-Flow-Filter can be used as a "polishing filter" that replaces disposable filter cartridges and consequently reduces costs for customers